I saw this recipe in People magazine earlier this summer and I've been dying to make it ever since! I love learning how to cook and I've found that I have been much more adventurous in trying new recipes especially with the help of Pinterest. If you get a chance, read the People article on this recipe too. Emeril gives some tips on when to add the sauce for BBQ perfection. I'll be making this recipe this week! Yum!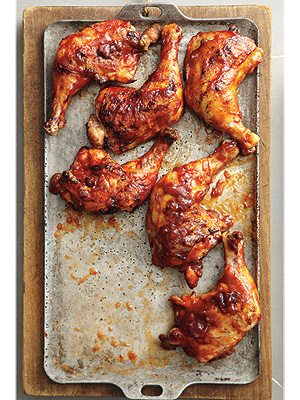 Emeril's Backyard Chicken
Makes 8 servings
• 2 Tbsp. each salt and garlic powder
• 1 Tbsp. each black pepper, onion powder, cayenne pepper, dried oregano and dried thyme
• ¾ cup chopped yellow onion
• ½ cup firmly packed dark brown sugar
• ½ cup apple cider vinegar
• ¼ cup Worcestershire sauce
• ½ tsp. crushed red pepper
• Freshly ground black pepper
1.
Whisk together paprika and next 7 dry seasonings; set aside.
2.
Cook onion in hot oil in a large saucepan over medium-high heat 4 minutes, stirring often. Add garlic and cook, stirring constantly, 1 minute. Add next 8 ingredients, and 2 tsp. of paprika mixture, and bring to a boil. Reserve remaining seasoning for another use. Reduce heat and simmer, stirring occasionally, 15 to 20 minutes until sauce thickens. Remove from heat; set aside to cool. Reserve 2 cups barbecue sauce in small bowl. Cover and chill remaining sauce up to 2 weeks.
3.
Preheat grill to medium-low (250 to 300 degrees F).
4.
Season both sides of chicken quarters with salt and pepper. Grill, skin side down, on oiled rack over indirect heat 15 to 20 minutes. Turn chicken and brush with reserved barbecue sauce. Grill 20 to 30 minutes longer, turning every 10 minutes and basting with sauce, until juices run clear and an instant-read thermometer inserted into the thickest part of thigh registers 180 degrees F.